Report of The First & Second Groups of Volunteer Students for the Disaster Area (Hirakata Campus)--The Photos Taken by a Student Displayed at "Citizens' Photo & Film Festival 2011 in Hirakata" (11/11/18)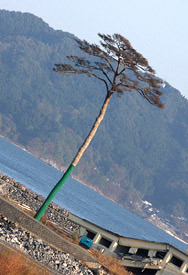 The Miracle Sole Pine on "Takada Matubara" in Rikuzen, one of the famous beautiful places in Japan
The photos taken by Shota Moroi, a student at Hirakata Campus who was a member of both the First & Second Groups of Volunteer Students for the Disaster Area will be displayed at "Citizens' Photo & Film Festival 2011 in Hirakata". He will also report how he felt in the disaster area, so please come and see this event.
| | |
| --- | --- |
| Date & Time | Sunday, December 4th, 14:30~ |
| Place | The Conference Room "Yutori" , on 2F of Hirakata NPO Center Inside "Sapuri Murano" 1-5 Murano Nishi-machi Hirakata City (Inside former Murano Primary School) |
Total Topic: "Citizens' Photo & Film Festival 2011 in Hirakata"

| | | |
| --- | --- | --- |
| Part 1 | 13:30~ | Film Festival--subscribed films will be shown |
| Part 2 | 14:30~ | Photos & films focused on supporting the stricken areas (including Shota Moroi's photos) will be shown |
| Part 3 | 16:30~ | Reception |
Message from Shota Moroi (Freshman of the Department of Economics & Finance of the Faculty of Business Administration)
:
"I thought that the most necessary thing is not the recovery of places but "the recovery of heart". The recovery of containers is important, but the recovery without reconstituting the human communication in the area would not be real recovery.
It's Human Beings that can understand injured feelings and regenerate the power to live. However in the disaster area they are short of volunteer help and therefore the recovery of the community is being delayed.
The Miracle Sole Pine on "Takada Matubara" in Rikuzen, one of the famous beautiful places in Japan (upper-right photo) was the only one left out of 70,000 trees, and so it has become the symbol of the recovery as "Pine Tree of Hope". I hope my report will be a good opportunity to make many people turn on the light in their heart and think about the recovery together with us."