The Report of "The Second Group of Volunteer Students for the Disaster Area" (11/11/10)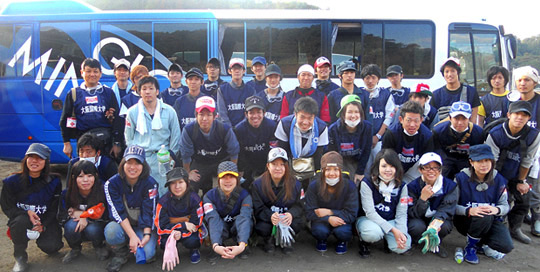 The students experienced hardships and so they worked with a smile dreaming for recovery.
The Second Group of Volunteer Students for the Disaster Area (47 students and 6 teachers and school staffs) engaged in voluntary work in Rikuzentakada City, Kamaishi City, Ozuchi-cho, Magokokoro no Sato putting the foothold in Tono Magokoro Net (Tono City, Iwate Pref.).
Before activities the students offered a silent prayer for the area stricken by the tsunami. While they were working they felt aftershocks several times, but they encouraged each other in a loud voice and worked hard with their hands in collecting glass chips, pieces of steel and tile chips from the ruins of the houses and the seafood processing factory, and they also removed mud from a ditch near a large ship which had been washed ashore.
According to the explanation made by Tono Magokoro Net, the real meaning of the students' cleaning activities is that to show the cleaned places to the people who sustained damage and make them have hope to live there again. Their voluntary work is not merely a heavy work but a proud activity, and as a result, the people should think of their activities as a consolation for their broken houses. This way they can receive some "mental care"
In addition, the students worked to bring about smile in the stricken areas. They made dried persimmons with the people living in temporary houses and constructed a wooden deck which will be a place where the people can gather to think about recovery.
Through the activities this time, the students grappled with the problems in front of them and never finished their work with self-satisfaction. They intently engaged in voluntary work with "the feeling of appreciation", and all of them said, "We should inform the people around us of the situation in the disaster area, and should continue activities to support the area"
This followed the dispatch of the first group and the students have greatly matured to support the future of Japan.
The activities of OIU students were reported in the web site of "Tono Magokoro Net"
Cleaning activities will become "mental care" for the people in the stricken areas


Activities bringing about smile
| | | |
| --- | --- | --- |
| | | |
| They constructed a wood deck | | They cultivated farms and put them in good condition |
| | | |
| --- | --- | --- |
| | | |
| They made dried persimmons with the people living there | | They presented one-thousand paper cranes made by OIU students with pupils of Sugaharahigashi Elementary School near OIU. |