On-the-spot Live Report of the Volunteer Activities (11/11/04)
On November 2nd and 3rd, 47 students of the second group of volunteer students for the disaster area did volunteer activities in Rikuzentakada City and Kamaishi City through Tono Magokoro Net in Tono City, Iwate Pref.
In Rikuzentakada City, the students worked at the site where the seafood factory used to be and was washed away by tsunami, and they removed tiles and stones in order for the factory stand there again. In addition, the students communicated with the farmers who required the students to cut off persimmons from the branches and peel them to make them into dried persimmons. The students said that they wanted to care about the feelings of the people there through the volunteer work in order to restore the beautiful scenery which is some of the most famous in Japan.
They happened to meet Mr. Kazuya Nakahata who graduated from the Faculty of Human & Health Science in 2008. He also was there to do voluntary work through Tono Magokoro Net , and communicated with the students.
The students will do volutary work at four places including Ozuchi-cho and Tono Magokoro-no-sato on 4th, the last day.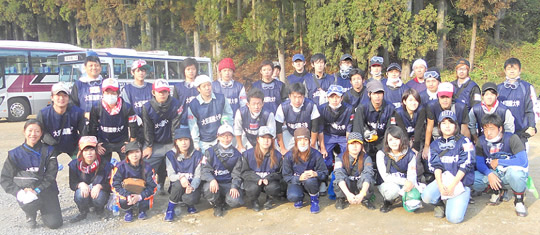 Activity Group in Rikuzentakada
| | | |
| --- | --- | --- |
| | | |
| "Miracle Sole Pine Tree" in Rikuzentakada | | Hakozaki, Kamaishi City |